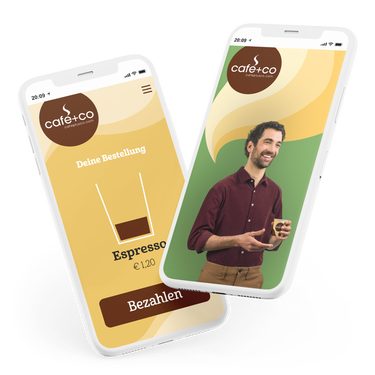 State-of-the-art payment systems
-

SmartPay - the smartest way to pay in contactless form.
SmartPay App
With this, payment is also an enjoyment
You always have your smartphone with you and paying via the app is simply smart. Download the app, register and set it up. Connect café+co vending machine with app, select product at the vending machine, wait for preparation or issue, remove product - ready!
For all who want precise information at their fingertips
SmartPay app. This is how it works exactly!
3 steps to smart payment

1. Create account
Enter e-mail address, define password or register directly via Google/Apple/Facebook.

2. Top up credit balance
Store debit or credit card and top up new credit balance continuously at the press of a button. For a good start, the 1st coffee worth EUR 1.50 is free of charge.

3. Connect with vending machine and select product
Via the QR code scanner, the app connects itself with the respective café+co vending machine. Confirm connection and select product directly at the appliance.
Collect CoffeePoints and enjoy benefits!
As a user of the SmartPay app, you are automatically also a member in the SmartPay BonusClub - without any obligation whatsoever. You gain CoffeePoints with every payment via the app! The respective current status of the CoffeePoints is visible on the start screen of the app. With 15 or more collected CoffeePoints, these can be redeemed in the SmartPay BonusClub for attractive offers.

Do you have any questions? Please find our answers here.

Our tip:
Save your favourite appliance as a favourite; then it will be even quicker the next time.
Briefly take the time to find out how the app works